Welcome to the portfolio section of my website. This section is designed to showcase my work in other areas such as three-dimensional design, Photoshop, Illustrator, and more. As an artist, I tend to focus on creating images that stem from either nature or that have aspects of nature in them. I have always been fascinated with the way that we are a part of nature and yet so far removed from it. As you explore my site, I hope that you get this feeling from my work and that it makes you question this connection that all of us share and that is sometimes very broken. Similar to the photography section, please feel free to contact me with questions at the number below, or you can access my information and resume in the contact section.

Thank you again for visiting!

Michael E. Moriarty - (815)297-5000 - mikemoriarty1792@gmail.com - www.moriartydesigns.com
Powered by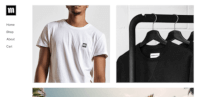 Create your own unique website with customizable templates.